7 'Need to Know' Call to Actions for Your Blog | Chef Katrina
See on Scoop.it – Social Media Tips by FMMG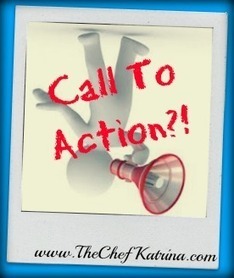 Learn these 7 simple call to actions that can add more subscribers, sales, and comments to your blog. Learn the secret to building your blog.
Does your blog have a call to action? As a blogging coach and having reviewed a number of blogs the one thing that most blogger forget or don't have is a call to action.
Picture this…
You just researched, planned, and wrote an amazing blog post. It is captivating, engaging and you know you have great content. In you mind you are thinking, "Everyone is going to comment & share this once they read it."
You post your blog to your favorite social sites and now you site back and wait for the comments to roll in!
After a couple of hours nothing. You get some comments on your Facebook page that tell you how great the blog post is… but no comments on the blog itself?
See on thechefkatrina.com